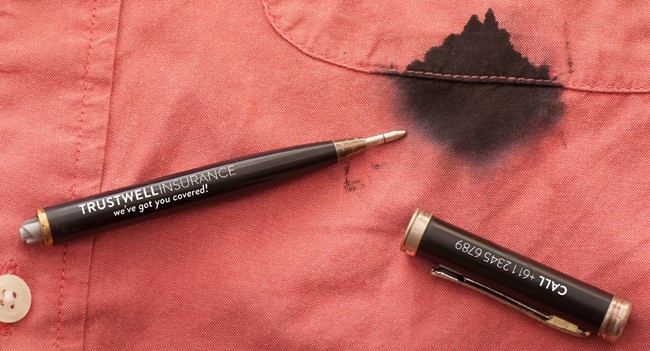 5 Reasons Why Offering A Cheap Pen Can Be An Expensive Idea...
A cheap pen does not always provide the best value for your customer; potentially returning poor ROI, or even worse, damage to their brand.
Your customers need to understand that whilst they may save in the short term, it could cost them (and you) $$ in the long run.

Here are 5 good reasons why you should consider sourcing a quality pen:
Cheap pens often equal lower quality... and with a lower quality pen you run a risk; the ink might leak, the pen might fall apart or it simply won't get used! A poor quality pen will send the wrong message... or fail to send any message at all!
Longevity... If the life of the pen is short, so is the life of the promotion. In turn, this means less exposure and a low return on investment;

a total false economy!

A good quality print on a good quality pen will provide greater exposure and engender a more favourable association with the brand!
Poor quality products damage brands and relationships... Imagine the pen in the image above was supplied to your client... by you. Both you and your customer have invested blood, sweat, tears and countless dollars in your businesses... is it worth risking this to save a few cents? It's true, they may not remember every promotion that goes well but you can guarantee they will remember one that goes bad...
The market is saturated and highly competitive... with low margins, high risk and poor returns. Separate yourself from the crowd, look to provide a point of difference and add real value to your business and that of your customer.
Up-sell and impress them with your industry knowledge... Offering a better quality pen not only demonstrates industry nous, it also shows you understand and value your customer's business and are focused on achieving a best possible return on their investment!

With full knowledge of the pitfalls, we understand that your client may insist on a cheaper pen. In which case... chose carefully;
NOT ALL PENS (or suppliers) ARE EQUAL!

At GlobalCatalogue we supply quality pens in all price points, provide a comprehensive in-house printing service, and guarantee the quality of both!